Ka-Pow! is a men's Ultimate team based in London, England looking to compete at the highest level nationally and internationally.
Ka-Pow! Ultimate are a team going from strength to strength and are always looking to improve. Our squad members will be expected to push themselves to be the best which will then in turn push their team mates to be the best.
Ka-Pow! Ultimate annual finishing positions:
2012 (Inaugural) Season: Tour Ranking 9th / UKUNationals Finish 9th
2013 Season: Tour Ranking 6th / UKUNationals Finish 6th (Spirit Award winners) / eXtended European Ultimate Club Finals Finish 17th (Spirit Award winners)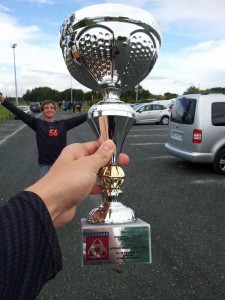 2014 Season Aims: Improve our Tour Ranking and UKUNationals and xEUCF Finishing positions / retain Spirit Awards won in 2013 / continue to improve our abilities and spiritedness as individuals and as a team
Founding Principles
Ka-Pow! were founded with two principles to guide the team through all situations:
– Ryu: He is a humble, respectful and determined fighter from the Street Fighter series of video games. His drive in life is to better himself by moving from opponent to opponent to test and refine his skills with his life's goal being to perfect his abilities. All Ka-Pow! players are expected to be humble, respectful and determined in their training and competition and are expected to put a lot of effort into bettering their abilities.
– Be a good team mate: A good team mate works hard on and off the pitch at trainings and tournaments, will bring extra water/discs/food to training and tournaments, will push themselves to be the best they can be at trainings, will keep a positive attitude at all times and will be encouraging to their team mates and will show commitment to the team at all times. A good team mate will help to create a good team.
Check out our International Superstars from 2013
Contact Us on the Team Email: meanwhile@kapowultimate.com